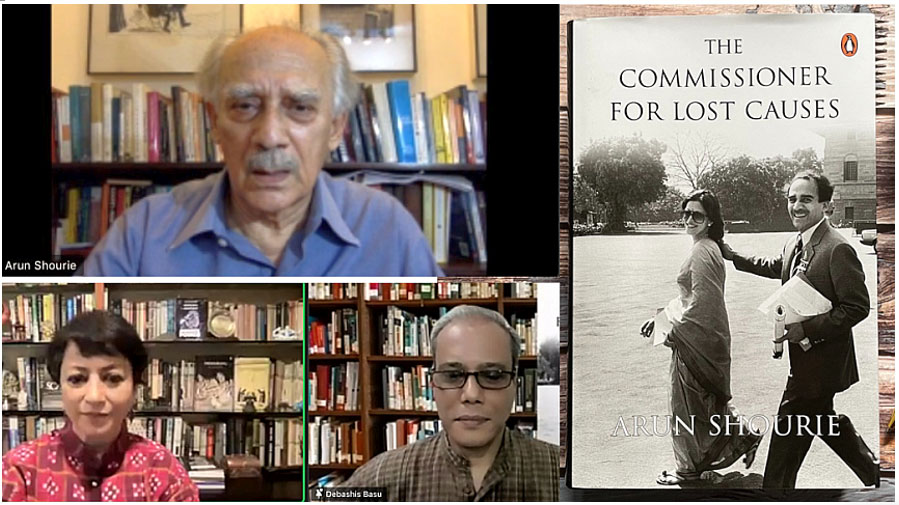 "There were journalists, even at that time, who prided themselves on the fact that they had access to persons in authority. And certainly, in many newspapers, the owners and their editors had ingratiated themselves with the rulers. But I think they were not looked up to, and people saw through them. Today that has become the norm. You will find very few voices, very few organisations, certainly in what is called the mainstream media, which are standing up for the right values for the truth," said renowned economist, journalist and politician Arun Shourie. He was answering a question asked by Sucheta Dalal, founder trustee of Moneylife Foundation, on whether today's mainstream media, being considered as godi media by some, had sunk to a new low compared to what it was in the 1980s. Mr Shourie was the executive editor and then editor of Indian Express between 19879-89, when it exposed many sensational stories.
Mr Shourie was in conversation with Ms Dalal and Debashis Basu, editor of Moneylife and founder trustees of Moneylife Foundation, at a webinar organised to discuss his latest book, 'The Commissioner for Lost Causes', which deals his years at the Express. While the hour-long conversation mostly revolved around the fascinating aspects of India's history covered in Mr Shourie's book, many important insights on today's media, the judiciary and other elements were also discussed. 
In Mr Shourie's opinion, while the mainstream media may not be viewed in a respectable position these days,  "there is this creative response of the society to the high handedness of the government and the slavishness of the mainstream media. For instance, Moneylife, The Wire, The Print, AltNews…all these organisations have come up. They are small, run by dedicated individuals, the teams are also small and they are not funded as well as these big papers. Yet, they are able to get the facts out to all of us and that is a wonderful thing."
Continuing this discussion of the state of mainstream media, Mr Basu said, "thanks to the digital tools today, every individual is actually far more empowered. With just a mobile phone, net connection and a social media account, everyone is potentially a journalist and a whistleblower, whose post can go viral." 
Mr Shourie agreed that modern technology had given us tools that can be used with significant effect. 
"You are absolutely right, that every individual can be a journalist and I do hope that conscientious people will put their mobile phones to good use…don't doctor things and so on. If you are a journalist, it is a matter of public trust. You are a trustee of the society at that time, and you have to get the truth out to them," he explained. 
Remarking on Mr Shourie's pathbreaking stint as an editor at the Indian Express, Mr Basu said that "your work at the newspaper created history and it was an inspiration for people like us to join the media. Yet, many including editor BG Verghese famously said that you were not really a journalist."
"Okay, so what if I am not a journalist. When I was in the government, they said he is not a politician. Okay, I am not a politician. So what? Quoting a Marathi author whose name I cannot recall at the moment – you please believe the worst about me, that I am a drunkard, a cheat, a liar and anything else. But what about the facts? Are the facts correct or not? That is the only thing that should matter in the end," Mr Shourie emphatically explained. 
Answering a question from Ms Dalal about being labelled as the "Commisioner for lost causes" by Ramnath Goenka, businessman and founder of the Indian Express, Mr Shourie explained that the title of his book has actually been misunderstood. 
"It is one of the most affectionate things that Ramnathji had said to me. As far as lost causes are concerned, we should realise that we are nobodies compared to the Buddha, Jesus or Gandhi, who also would seem to champion 'lost causes'. As far as I am concerned, everybody's cause gets lost. Those big people should be an inspiration to us, but their cause should also induce modesty when we work on what we think is a great cause or even a transient cause. But change can only come when enough people work on a particular cause for a long time. As Buddha said, Begin, but persevere."
The book covers some of the most challenging periods in India's post-independence history and Mr Shourie has meticulously narrated protests and demonstrations led by opposition leaders on various issues. 
Talking about this aspect of the book, Mr Basu asked, "these days, we hardly see any political protests, no matter how cruel the state's actions are. The last major movement was India Against Corruption in 2013. While nothing seems to have changed about the state, has something changed in how we react to the state – that is, with more apathy?"
According to Mr Shourie the first reason has always been disillusionment. "After so many movements and protests, if the end result continues to remain same, then people get disillusioned. After a movement, there has to be some institutionalisation of the ideals for which the movement worked. But that does not happen. For instance, if the movement is so great, the people leading it become part of the government and then behave like any other minister…then people get disillusioned. The second reason for apathy, I feel, is that people these days have much more money than they did in earlier days. The middle class were not making as much money at that time as they are today. So if you are busy making money, you are not going to have much time for public causes."
The hour-long discussion, soon moved on to the topic of the judiciary and then ever-growing judicial pendency in India. 
Replying to the question posed by Ms Dalal on the judiciary, Mr Shourie agreed that the "quality of the judges is certainly subject to the same law as the quality of persons in public life or journalism or anything else. But what has happened is that somehow the judges are satisfied with just giving their orders. This probably comes from inheriting a system from Britain when the mere word of a judge could automatically be obeyed. Today, that is not the case. People just do not obey your guidelines, your judgements."
Continuing further, he also agreed with Mr Basu's opinion that approaching the courts for resolution was essentially like buying a lottery, where you never know if the judgement would be in your favour or not. 
"It is a lottery and not just on public causes. It is a lottery, even on personal matters. What this judge will do and what that judge will not do is, unfortunately, a lottery. We are at a stage where we cannot look for vindication in the courts. Further, it is almost by design that the rich, the very influential people, and the well-connected people, will not suffer because they can manage the process. In the end, they won't be convicted, but the poor person, the person not well-connected, will be out through that crime. In fact, I hope that more of the big people are made to suffer in jail so that itself would propel them to support reform and maybe someone will finally lobby and finance the reform," Mr Shourie says. 
Ms Dalal asked an important question imagining whether the mainstream media organisations would ever come together as a group to fight a common cause as they once had in the old days to fight the enactment of the defamation bill. 
Mr Shourie is absolutely certain that they would not, because in his opinion, "the media and the TV channels today are essentially departments of the government. They are part of the establishment. They are part of the government. They are like North Korean media. So they will not do anything; they will not come together as a group."
The conversation with Mr Shourie lasted well over an hour and was attended by over 350 people across Zoom and Moneylife Foundation's YouTube and Facebook channels. A video recording of the session is available for viewing on Moneylife Foundation's YouTube Channel.