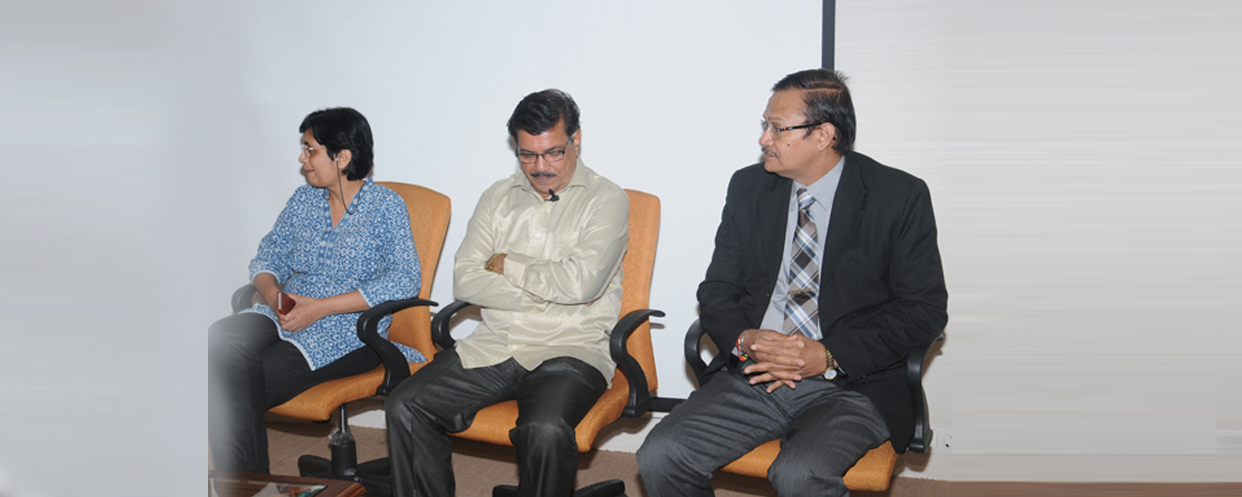 "The problem of corruption is overwhelming and it cannot be curbed with a one shot solution. Preventive measures and strengthening grievance redressal system will be effective in reducing corruption," says Dr Pradnya Saravade (IPS), the Additional Director General of Police for Administration in Maharashtra. She was speaking at the valedictory session under the "Police & You" series.
Moneylife Foundation with Police Reforms Watch and support from Saraswat Bank have had launched the 12-week program (every Wednesday) that aimed to spread knowledge about protecting yourself, your rights, the Indian Penal Code (IPC), cybercrime and economic offences. This was the last session in this series.
Dr Saravade, who during her long career had handled everything from traffic, to human trafficking and crime to cybercrime, says, "At CIDCO, we took some measures to reduce the rampant corruption. This includes making processes simple, fixing timelines for delivery, creating a vigilance website that was used to publish verified complaints by masking names of complainant and giving an exit option to the accused. We also focussed on supply side corruption by signing an integrity pact with Transparency International and made it a part of tenders and other processes. On demand side, we focussed on education and preventive measures."
The final session of the 12-week series on "The Police & You- Anti-Corruption Bureau (ACB): Learn how it functions" was conducted Dr Saravade and Mr Vilas Tupe, former Assistant Commissioner of Police (ACOP) and two-time President's police medal awardee. Both the speakers provided guidance on functioning of ACB and how citizens can report bribe demand and corruption cases to the Bureau.
Mr Tupe, who spent almost 10 years in the ACB in different capacities, informed the audience about government departments in Maharashtra that have maximum numbers of corruption complaints. According to the data from the ACB, in the state, Revenues, Land Survey, Registration, Home (Police) and Rural Development department are the top five in terms of corruption.
"Corruption acts as a stumbling block in the path of development and affects the image of the country adversely. Corruption also arises due to unnecessary procedural formalities. A public servant is said to commit an offence of criminal misconduct in the discharge of his duty if he, by corrupt illegal means, or by otherwise abusing his position as a public servant, obtains for himself or for any other person any valuable thing or pecuniary advantage," he said.
The former ACP also explained various sections of the Prevention of Corruption (PC) Act, along with what is considered as offence and the penalties stated in the law for it.
He explicitly cited three things followed by the ACB, laying a trap and catching the accused red-handed while accepting the bribe, cases under the disproportionate assets and criminal misconduct by a public servant. "Laying a trap is the most effective way of catching an offender in the very act of commission of the crime. It no doubt is a dramatic and thrilling operation. Laying of trap therefore is one of the steps in investigation, and it has the approval of the courts as convictions in trap cases have been repeatedly confirmed up to the Supreme Court," Mr Tupe said, while citing several traps he laid to caught the accused.
As per the law, criminal misconduct by a public servant, who habitually accepts gratification, dishonestly misappropriates public property, illegally obtains advantage of his position, abuses his position as a public servant, or has property disproportionate to his known source of income is punishable with imprisonment up to 10 years.
According to the former ACP, the offence of disproportionate assets is the nightmare of corrupt public servant whose love of filthy lucre deeply affects public. "Buildings and bridges that collapse, licences and permits, which are issued against the rules and often result in outflow of crores of rupees worth foreign exchange, purchases made at exorbitant costs, public sector undertakings that run at huge losses, contracts that are entered into at unduly high costs to the government, people dying due to adulteration of food and drugs, criminals who thrive unchecked; in all these the corrupt public servant has a large role to play," he added.
Section 13(1)(d) of PC Act deals with cased related with disproportionate assets, especially of public servants. Mr Tupe informed the audience that if the information about such assets is provided by any citizen, then the ACB give cash rewards to the informants.
Mr Tupe said, the common citizens, who face such instanced of demand of bribe from a public servant, need to come forward and report it to the ACB.
The Bureau has a toll free telephone number 1800 22 2021, a WhatsApp number +91-9930997700 and email ID
[email protected]
, where citizens can report corruption cases, he added.
The event was held in the well-appointed auditorium of Saraswat Bank headquarters, Eknath Thakur Bhavan. Sucheta Dalal, Founder-Trustee of Moneylife Foundation made a special mention about the support received by Mr Thakur, Ms Kavita Bendre and the entire team, including security, housekeeping and reception of Saraswat Bank. She said, "Each one of us has been struck by the unfailing politeness, help and smiling faces of every one we have dealt with at Saraswat Bank starting from the security officers at the entrance."
Ms Dalal also mentioned help provided by Dr Saravade and Nandkumar Saravade (IPS), the Officer on Special Duty (OSD), who heads the new IT subsidiary of Reserve Bank of India (RBI), in helping Moneylife Foundation to connect with the most upright, knowledgeable and well-regarded speakers from the police department.