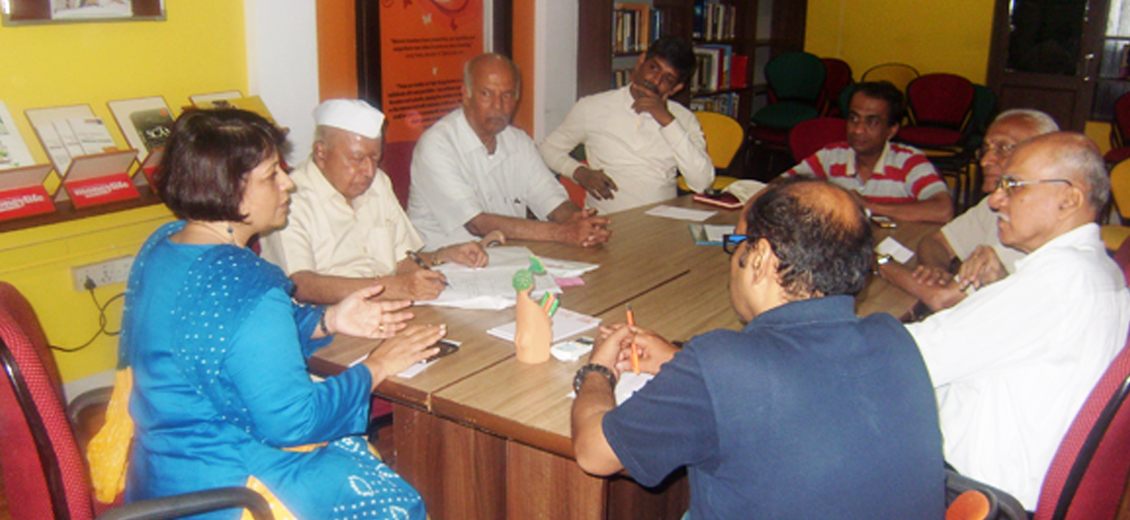 The sixth meeting of Coalition for Safe Rail Travel (CSRT) was held at Moneylife Knowledge Centre, Moneylife Foundation in Dadar (W). There were around 17-20 activists from various passenger organisations present at the meeting. Here are the important discussions that took place…
Cyclic Time Table for Mumbai Suburban Railways
Dipak Gandhi, Chairman of the Mumbai Suburban Railway Passengers' Association, explained the need to implement cyclic timetable on Mumbai's suburban railway. He said the railways have extra rakes, separate platforms for mail/express trains and yet due to the absence of cyclic timetable, passengers are made to suffer extreme situations.
It was felt that we need to create public awareness for implementing the cyclic time table designed and created by the Mumbai Suburban Railway Passengers' Association.
Sucheta Dalal said all the associations need to come on a single platform and have an open debate on cyclic timetable, in which we can invite all the members of Parliament (MPs) and other representatives from Mumbai.
After discussions, it was decided to have an open debate in August (tentative 10th August). Before that we will have a press conference of Dipak Gandhi and all other passenger associations in July at Press Club. Ms Dalal said she would speak with the officials of Press Club and make necessary arrangement for the Press Conference. Samir Zaveri would share and inform all his media friends about the press conference.
Here is the action plan for the press conference and open debate on cyclic time table…
1. Dipakbhai would share all details of the cyclic timetable. Sampath Shetty would collect the details on Wednesday and submit it on Thursday.
2. We need to create computer simulation for the cyclic timetable. It was decided to take help from techies. Abhijit Mehta and Sunil Ahya can also help in this matter.
3. Arrange Press Conference after 15th July
4. Fixing date for open debate (tentative 10th August) and have talk with all govt., railway authorities requesting their presence
5. Calling all passenger associations together. Samir agreed to speak with all associations for the debate
6. Making list of all MPs, MLAs, like minded organisations, senior officials from railways
7. Prepare draft letter for sending to these people
Volunteers: 1. Chetan Bordawekar 2. One colleague of Sampath Shetty would come to Foundation for any voluntary work
Dr Rita Savla would help in creating a power point presentation for the cyclic timetable for the press conference
Ratilal Shah said he was ready to do any work for this initiative with Dipakbhai.
AV Shenoy said he would speak with like-minded activists from the groups active in transport sector
FAQ: Chetan Bordawekar has accepted to prepare FAQs on the cyclic timetable. We request all to send any information on this to Chetan.
Raising the height of platforms
Advocate and former national cycling champion Bapoo M Malcolm has been mentioning the need to reduce the gap between train and platforms. Earlier, Gaurang Damani informed that the railways have already floated tender for increasing height of platforms. (Both Mr Malcolm and Mr Damani could not attend the meeting)
It was decided that either Sudhir Badami/ Ratanlal Purohit or Sampath Shetty would become petitioner for filing a case in this matter. Dr Savla, Mr Purohit, Mr Bordawekar, Mr Malcolm, Mr Badami and anyone who is
interested would meet on this issue and decide about filing a case against the railways.
Helping Preeti Rathi, the victim of acid attack
Samir Zaveri shared the info on how pressure from political parties and MPs work on the railway authorities.
According to Samir, the Railways initially offered Rs5,000 to father of Preeti Rathi, the victim of acid attack at Bandra Terminus. When Samir intervened, some people tried to threaten Mr Rathi. At this time, Samir called Dharmendra Dubey, who works with students' wing of Shiv Sena. Through his efforts, Shiv Sena MP Anil Desai came in the picture and issued a letter to railway authorities. Thereafter, the railways decided to pay Rs20 lakh to Mr Rathi towards cost of hospitalisation and medicines.