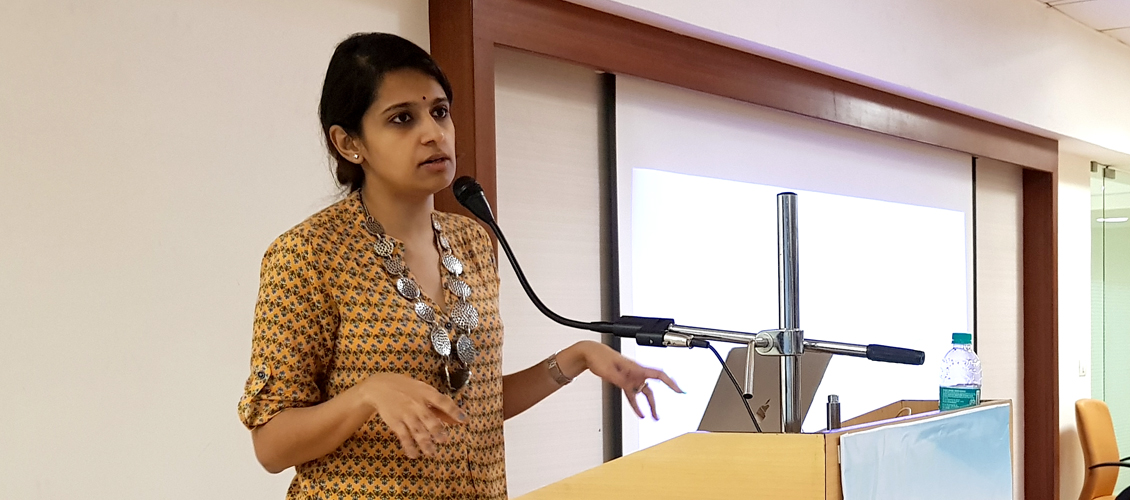 Today, social media has become increasingly popular with all sorts of people from students, policymaker to politicians and the public expressing themselves on several issues or even get things done. However, many users struggle to understand what social media is and how they could use it. Moneylife Foundation had invited Keya Madhvani Singh, head for entertainment partnerships at Twitter India to explain how the power of twitter can be understood and harnessed to deliver a message effectively.
Keya started the presentation by giving a brief overview of social media platforms. "Twitter is what s happening in the world and what people are talking about"
She explained how people usually come to Twitter in a discovery mind set, looking for what is new and for great content or stories.
She then proceeded to explain the step-by-step process of using Twitter. Simplifying the process of filling out the profile page, she shared three easy steps, describe what you do and your values; tell your followers what to expect from following you and explain your product or service with a link to your company profile .
After briefly explaining the basics of Twitter and explaining the differences in reply, retweet and like, she took the attendees through a simple process of composing a tweet.
She said, "Basically, a tweet should have an active statement one that lets people know what you think, it should have a link or a hashtag to explain what you want the users to do and finally an image or video to convey how you want people to feel."
"Even with the increased word count of 280 characters a tweet should always be brief and should convey your message effectively. An image in support of your tweet can often help in keeping a tweet brief. Finally, Twitter is about having a conversation and new users should follow trends on the platform to plug into an on-going conversation," Keya added.
During her presentation, Keya also shared few examples of ideal Twitter users that make the most out of the social media platform.
Responding to a question on misuse of Twitter platform, Keya says,"We have certain tools to curb abuse on Twitter. Unlike WhatsApp, here on Twitter, a user can report a tweet, block or mute those handles that may be spreading wrong information or fake news. Once a user report about a handle or tweet, our teams review it and take necessary action."
She also clarified that Twitter has stopped verified accounts for individuals. "However, we have not appointed or authorised any agency to verify accounts. If you come across such agency or person, then we request you to share it with us," Keya said.
According to the Twitter India s Head for Entertainment Partnership, Twitter is platform for communication but it is not replacement for police, fire or civic authorities. However, she says, more and more authorities are coming on the platform and using it effectively for better communication with general public. She shared how Mumbai Police are using Twitter effectively to help citizens after receiving information and complaints.