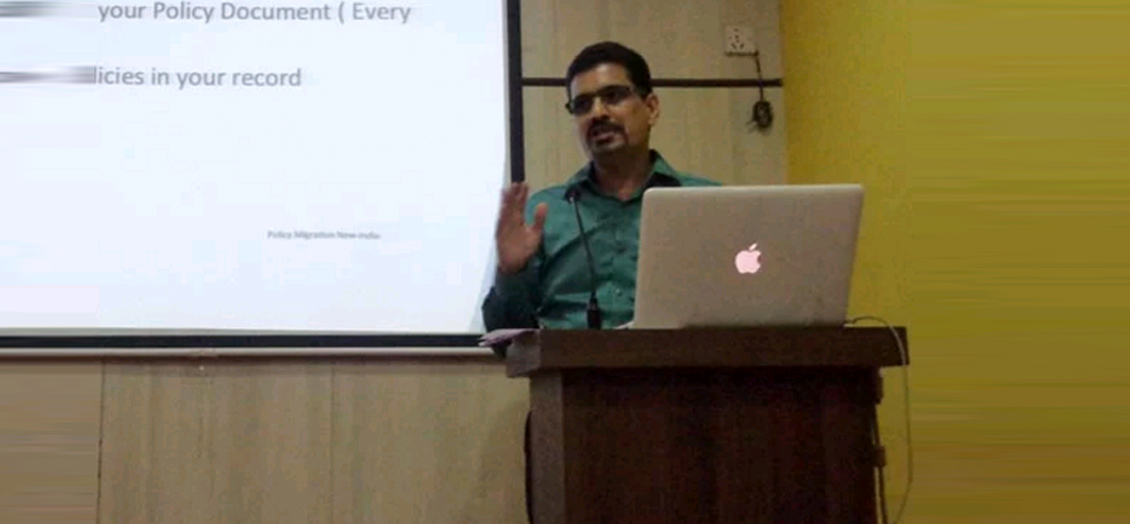 The insurance industry have settled over 86% of health insurance claims, worth Rs21,758.90 crore during FY2015-16. At the same time, claims worth Rs4,545.8 crore have been rejected. How do you ensure that you are not among those whose claim is rejected? There are several reasons for claim rejection. Many of them frivolous; sometimes rejecting claims and delaying payments is a policy followed by insurers; but often enough it is consumers who do not present a proper case.
How should a consumer file an insurance claim supported by documentary evidence to eliminate chances of rejection and how to use the Right to Information (RTI) Act, especially with government insurance companies, to help quick settlement or redress of complaints, was the thrust of a talk by Mr Rajesh Gada, Chartered Accountant (CA) and a Certified Financial Planner at Moneylife Foundation on 13 September 2017.
Mr Gada and his colleagues who volunteer with an social organisation called Tarun Mitra Mandal, had wide experience with various insurers and the strategies that each of them adopt. He also had some practical guidance for people, who tend to be negligent about their policies, medical records and submissions.
"One of the main issues that we come across regularly, is that people do not read or understand details of their insurance policy, especially mediclaim policy. Several people do not share information of any pre-existing disease with the insurer.
This is one of the major reason of claim rejection. Also, people need to know simple conditions such as the fact that you cannot claim insurance in first 30 days of your policy date, he said.
Interestingly, Mr Gada was clear that the need to disclose pre-existing disease was crucial at the time of buying your first mediclaim policy, but it is not necessary to make new disclosures during renewal. For instance, if a person is diagnosed as a diabetic a couple of years after taking a mediclaim policy, he is not obliged to disclose it during every annual renewal. However, he has to be make a disclosure if he plans to port to another insurer, he explained.
According to Mr Gada, in health insurance claims, room rent is based on the sum assured with a cap of 25%. He says, "There is a cap of 25% of the sum assured on doctor's fee, and a cap of 50% on operation theatre, medicine and diagnostic test. The insurance industry had also accepted some exceptions in the requirement in 24-hour hospitalisation. In case of more policies, the insured person can chose any one insurer for settling the claim."
The CA and CFP then explained claim submission process. He says the insured person needs to intimate the insurance company about hospitalisation within 24 or 48 hours (as per policy) and then submit all papers within seven or 15 days from discharge. "Most importantly, always remember to submit an index of all papers or documents submitted and take an written acknowledgment from the insurer," he added.
"The claim papers submitted to the insurance company for settlement should have hospital discharge summary, hospital bill, surgeon or doctor bill (not on letterhead, but a proper bill) if issued separately, investigation reports, medicine prescription and bills."
The insurance company may ask for more documents or details and the insured person is required to submit it. "When you submit claims, the insurance company may not have taken any action on this. Sometimes they do not even reply to reminders and if you visit their office, they may ask you to visit in next week. The file may get closed and claim rejected," Mr Gada says.
He says if you have all documentary evidence of claim submission, written acknowledgement of submission and reminders, then you can take the case to grievance cell of the insurance company. If still there is no solution, then you can file an application under Right to Information (RTI) seeking information on the status of your claim, he added.
Mr Gada, who is also actively involved as a volunteer in spreading awareness and guiding people about RTI Act through Tarun Mitra Mandal pointed out that if you follow the process systematically, then there is often no need to file an RTI. Moreover, the process of sending multiple reminders is also helpful when one approaches the insurance ombudsman, since it is clear that one has made every effort to have the issue redressed.
"As per our experience, after filing the RTI, many claims get settled. In case, not, then the insured person has option to take up the case to Insurance Ombudsman, which, in most cases rules in favour of the customer," says Mr Gada, who is Director at Gada & Haria Financial Planners Pvt Ltd.
Unfortunately, at present there is 'No' Insurance Ombudsman at Mumbai since past around 18 months and the Insurance Ombudsman at Pune has been looking after cases in Mumbai during his regular visits.
Sharing some important tips, Mr Gada, says, keep a file of your medical history and inform at least one family member about this file and your health insurance. While travelling, carry your policy details and contact numbers of the insurance company or third party administrator (TPA). Many health insurers provide an identity card with all necessary details, which you should carry while travelling, he added.
While there is no fixed format for filing RTI with the insurance company, Mr Gada shared a sample format used by him. He says, you can directly seek information from government insurance company through RTI, however for private insurers you need to file RTI with the insurance regulator, the Insurance Regulatory and Development Authority of India (IRDAI).