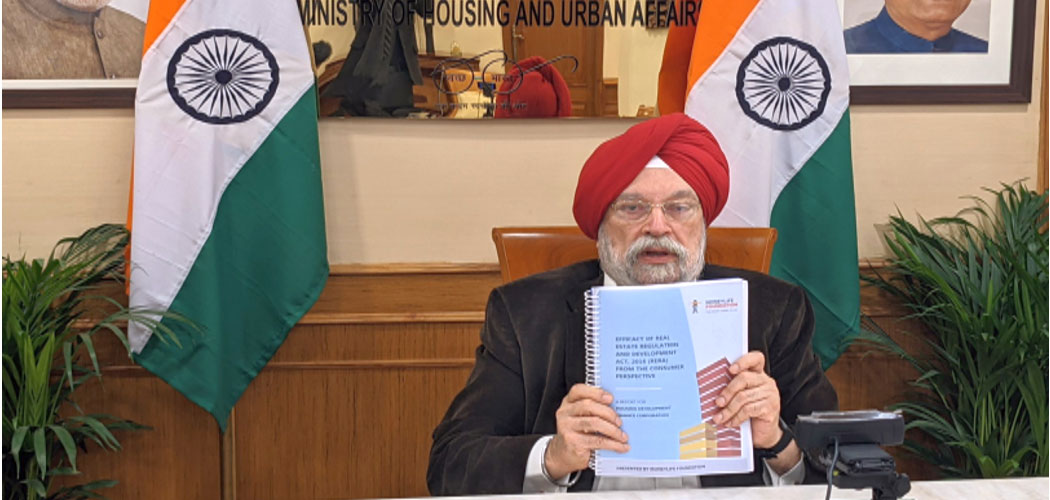 "Data will be more valuable than gold. Let me say from my ministry's point of view, we will work with anyone, the state RERA authorities. Let us have a central database, which will have all the constitutional segments, including the states. Let us have all the stakeholder access to the database. With maximum transparency that you can introduce, you will find that the sector begins to benefit from that free flow of information," says Hardeep Singh Puri, Union minister of state for housing and urban affairs (independent charge). He was speaking after releasing online the "Report on Efficacy of RERA From the Consumer Perspective 2020" prepared by Moneylife Foundation and HDFC Ltd in the presence of Deepak Parekh, chairman of HDFC and Gautam Chatterjee, chairman of MahaRERA.
While sharing the recommendations mentioned in the Report, Debashis Basu, founder trustee of Moneylife Foundation and editor of Moneylife had mentioned importance of central database of information. "We all keep hearing data is the new oil. If we can have a centralised database, set up with the ministry's help, the policy makers, researchers, and customers will all benefit immensely from the mountains of rich data that is getting generated," Mr Basu says.
Welcoming the recommendation, Mr Puri, the minister, says free flow of information will help not just the developers but also home-buyers.
The minister also called for 'One Nation, One RERA'. He says, "Maharashtra has one really tremendous work in successfully implementing the Real Estate Regulatory Authority (RERA) Act. However, states like West Bengal had come up with their own version of the Act. While we acknowledge that real estate is a state subject, for the benefit of home buyers, we would like to see 'One Nation, One RERA' implemented across the country." 
"The RERA has been a resounding success. The impact of this important legislation is beginning to show in areas that were earlier plagued by several issues. We now have a more stable, predictable, and transparent marketplace, which will benefit all stakeholders including the home buyers. Maharashtra RERA (MahaRERA) has provided guidance in following and implementing the Act, and we feel other states should expediate to make RERA fully effective in their states," Mr Puri added.
According to the minister, the history of real estate sector will be divided as pre-RERA and post-RERA period. "The Report prepared by Moneylife Foundation and HDFC makes very important recommendations, ranging from definitional issues to reconciliation between provision. The Report also highlights how orders passed by regulatory authorities are not being implemented in some cases. I assure you that we will have it all thoroughly examined and take corrective measures as deemed necessary."
The web release of the Report was attended by several prominent personalities from real estate sector, including chairmen of RERA authorities from some states and included realty industry experts, activists, advocates, regulators, and government officials from across the country. 
While referring to the Union government's scheme for affordable rental housing like the affordable rental housing complex (ARHC) scheme, where government funded houses in cities will be converted into ARHC complex under PPP (public private partnership) model, Mr Puri says, his ministry has been spending lot of time and would be happy to share some inputs with Moneylife Foundation and HDFC. 
Earlier on 9 February 2019, Mr Puri, while speaking at Moneylife Foundation's 9th Anniversary, had assured that his ministry would release model guidelines for retirement homes. Next month, based on Moneylife Foundation's "Report on Retirement Homes in India", the ministry issued model guidelines. 
Referring to this, the minister says, "We sent the model guidelines for retirement homes to all states for adoption. However, it has not been adopted by many states. We must find some way to make this happen. While not giving an impression of intruding in state subject, we need to find some way to utilise good office of HDFC and Moneylife Foundation to tell state governments as to how these model guidelines would be beneficial to a large segment of population, the senior citizens."
In his opening remark Mr Parekh says, "In 40 years of my career, I have never seen interest rates at such a low level like the present time. With supportive government policies, I see the demand for home loans to continue unabated."
He also talked about boost in registration in Maharashtra after the state government reduced stamp duty. "The reduction in duties saw three times more registration on December 2020 compared with last year. Due to high volumes, the government's revenues increased. This emphasises on the importance of lower duties," he added.
According to the HDFC chairman, the next thrust in real estate is going to be on rental housing. "The minister (Mr Puri) had already charted out plans, now it is up to all stake holders how we can make rental housing popular," he said, adding, "With construction led recovery, I feel India will build and India will grow."
Mr Chatterjee, the chairman of MahaRERA, welcomed "the pragmatic decision of reduction of stamp duty rates by government of Maharashtra which resulted in a quantum jump in sales registrations, 2.5 lakh sale agreement registrations across Maharashtra." 
He says in the past quarter, MahaRERA has registered around 1,200 new projects, which exceeds even launches in the corresponding period last year. The sector seems be coming back on track, Mr Chatterjee says adding that last year has been a difficult year for the real estate sector, both from the consumer and promoter's perspectives.
The MahaRERA chairman also highlighted several measures taken by the regulator to make it a success in the state while helping home-buyers in a big and better way. 
Mr Chatterjee admitted that the challenges posed by COVID-19 has helped MahaRERA expedite the expansion of its digital footprint to cover the whole gamut of quasi-judicial complaints management on online mode, like online filing, uploading written replies, rejoinders, affidavits and all other documents, online monthly cause-lists, virtual hearings, online rojnamas and digitally signed orders, taking a further step towards MahaRERA's vision of a zero footfall and paperless office. He further added that after a brief three-month disruption, MahaRERA through its virtual hearings has adjudicated 1,032 cases in six months.
The Report release was followed by an expert perspective from several stakeholders. Pankaj Kapoor from Liases Foras pointed out an important issue of different calculation of carpet area under the RERA and the developers or local bodies. "Internal wall area added in RERA carpet area calculation is quite ambiguous," he says.
Responding to this, Mr Chatterjee acknowledged that there is an issue. "The Central Act defines what is the carpet area, and MahaRERA follows this definition. However, such things will have to be sorted by amendments in the RERA Act," the MahaRERA chairman says.
Participating in the discussion, Pranay Vakil, founding chairman of Praron Consultancy India Pvt Ltd raised the issue of black money in real estate business. He says, "While overall RERA is a good act, it does not address the issue of black money in realty. Further, the ready reckoner rates declared by the government does not always work or completely different than the actual rates on the higher side. Ready reckoner rates, sometimes, are quite too high and many transactions are taking place below the ready reckoner rates."
Responding on the question of black money in real estate, Mr Parekh, the chairman of HDFC, says he has seen the use of black money going down significantly. He says, "In about 70%-80% project there is no black money, especially in many new projects the buyer does not have to give any black money. There hardly are few projects where we can see black money being used."