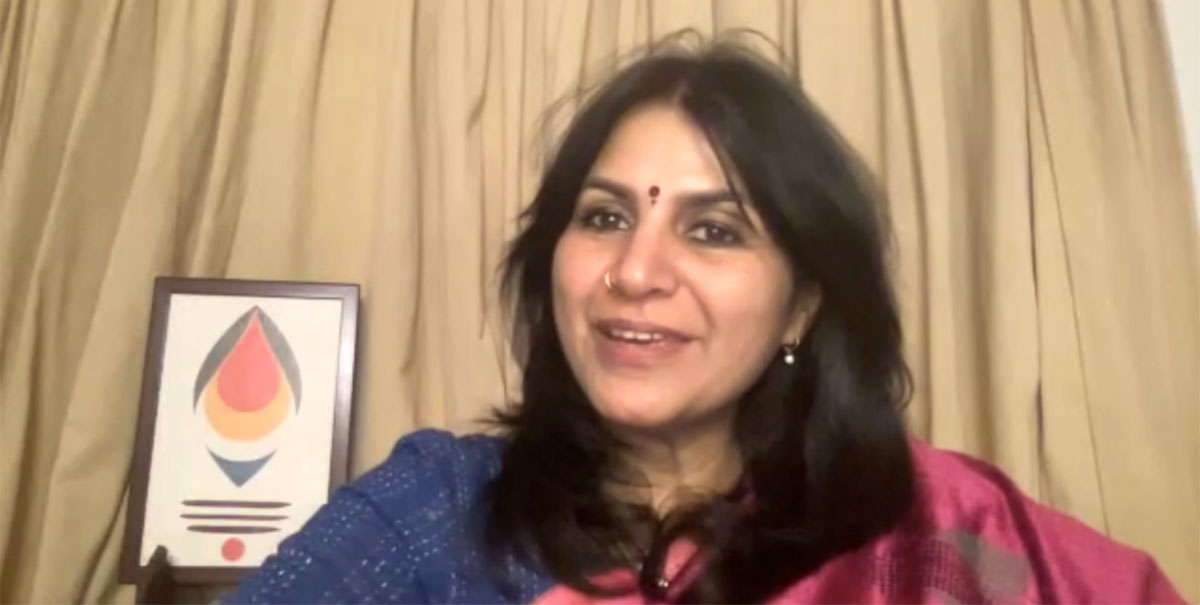 "The sum and substance of all cosmetic products, is that the large print giveth and the small print taketh away," shared Geeta Prakash, founder and CEO of Parama Naturals, while speaking at a webinar organised by Moneylife Foundation.
Most consumers only read the label on a product to check the expiry date, missing out on the vital information that is hidden in the fine print. Moneylife Foundation had therefore organised a webinar to educate and enlighten consumers on the importance of reading and understanding labels on cosmetic products.
Geeta used examples of three commonly used products – a daily moisturiser, face wash and body oil, analysing their key ingredients and highlighting those that should be avoided.  She demonstrated through her presentation how the labelling normally appears on cosmetics – "a large front label, with the promise or what they call benefits and the brand name. Then there is the back label, which is extremely confusing  and then the fine print. There are lots of numbers sometimes and complex sounding chemical names, so it's actually discouraging for you to read them."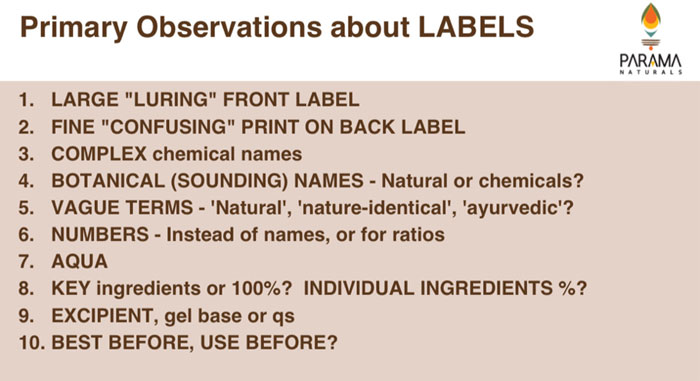 In the case of the daily moisturiser, the ads probably say that it is a nourishing cream which is good for the skin, but perhaps unsurprisingly Geeta explained from her presentation, that the top three ingredients in such products are usually – aqua (water), paraffinum liquidum (mineral oil, a petrochemcial) and C15-19 alkane, which is a solvent. "If you go further down the list, in most products there are more than 50-60 ingredients that you need to read, whose effects on the skin would be hard to identify for the common consumer," she explained. While at a glance the addition water might seem harmless, it is actually being used as a filler and a consumer is essentially losing out on the vital ingredients which are again mixed in with the chemicals. 
The same is true for face creams, as Geeta explained using the example of a well known brand - "It's supposed to be a brightening, daily light moisturising cream, but the top three ingredients are again water, palmitic acid and ethylhexyl methoxycinnamate, which even I find difficult to pronounce! Further down the list will be natural sounding ingredients like citronellol or limonene, which are actually chemicals that can be irritants or even be toxic to our immune system".
With her third example of a popular body oil, she showed how the top ingredients were, "paraffinum liquidum, trilsnonanoin (a penetration enhancer), and the other usual culprits such as retinyl palmitate, which with exposure to the UV rays of sunlight can lead to toxicity and can become carcinogenic."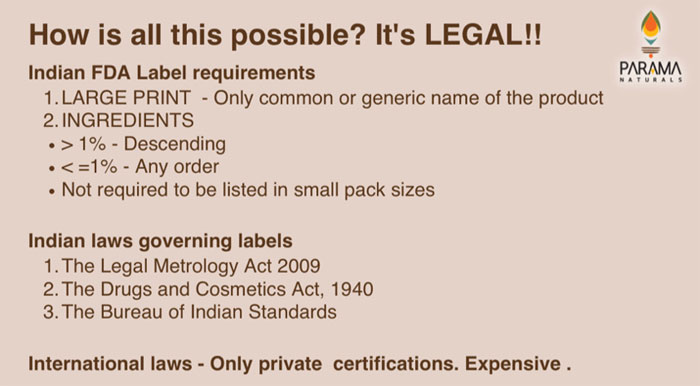 The obvious question that arises from these revelations is whether such usage and labelling is legal. As Geeta explains the, "Indian FDA label system allows large print to have the common name, while the rest of the claims being made by the product can be obfuscated in the fine print. These are represented on the product as disclaimers, which typically say 'based on some studies we observed' or something along these lines. But it's always buried in the fine print. Further, when the list is really long, only the ingredients which constitute more than 1% of the product need to be listed in descending order, while those less than 1% can be listed in any order. In fact, in some cases if it's a very small size, it may not even be required to be listed at all."
The most unwanted ingredients and the common culprits that Geeta highlighted in her presentation were phthalates (BBP, DBP, DEP, DiDP, DnHP) which are used in fragrances and lotions, and are known to be harmful to the reproductive system. While formaldehyde releasers (such as urea) are used as preservatives in products with water (lotions, gels and serums), and are known to be carcinogenic allergens. Retinyl palmitate and retinoic acid which are common ingredients in skin creams and sunscreens are also known carcinogenics.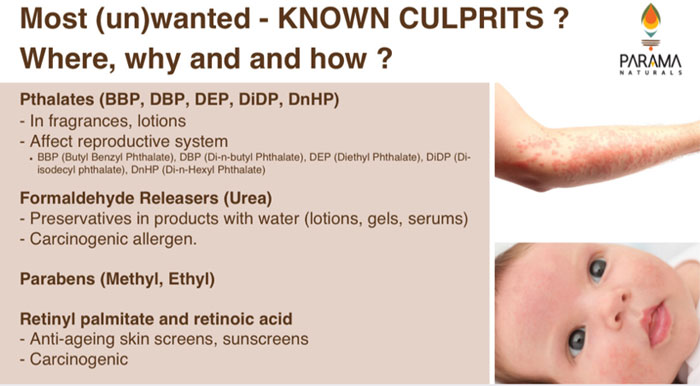 Instead, she suggests that consumers opt for time tested natural ingredients for skin care such as cold pressed or kachi ghani nut and seed oils (coconut, sesame and almond), herbal extracts and essential oils that are steam distilled and carbon dioxide extracted, and natural hydrosol (water based products) such as aloe gel. One should also opt for products that have "100% transparent labels with no fillers or hidden ingredients, minimal packaging and ingredients which you can understand. Look for products that are 100% natural and time tested to be safe with no side effects," she suggests. 
"The one important takeaway as a consumer is to avoid any product that lists aqua or water as an ingredient. How do you avoid such products? Instead of using such moisturisers, you should apply pure oil to your skin and then apply water separately. So what you're actually doing is applying good oil and good water, while keeping all the chemicals out. If you want a bit of fragrance simply add a bit of rose water," she explained.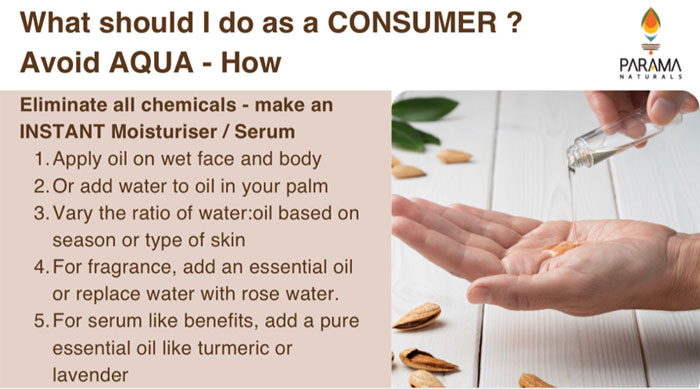 The cost saving consumer would perhaps consider doing a cost per ml comparison with products, but as Geeta explains most daily moisturising lotions contain "60-70% water, 25-30% chemicals and 5-10% oil. A more prudent comparison would be the upfront cost versus the life time cost of deteriorating health problems."
Sucheta Dalal, founder trustee of Moneylife Foundation raised an important question about the stigma and public perception that has been created around oils, that of being sticky, and Geeta agreed while presenting an alternate solution to the problem - "It's true, there is this negative perception. But a combination of oils at the right time, right dosage can make a whole lot of difference. Even if you mix it in water straightaway, it can be immensely useful in providing the same benefit as a moisturiser. The other way to do it is to apply oil after a warm bath when your pores are large, the oil will then be quickly absorbed in your skin."
While being a electrical engineer by qualification and leading a busy life as a business management professional for decades, Geeta Prakash found that she had very little time to spend on wellness and would often use cosmetic products that were from well-known decades old brands. Only through personal experience, did she come to realise that even cosmetics from trusted and recommended brands contained chemicals that were either allergens that caused rashes or had serious long term effects such as cancer. 
"Being a totally devout follower of a brand, then moving to maybe just checking for critical ingredients, then trying to look at little more on the labels and finally trying to learn to master them, I went on this long journey which was really confusing. After so many years of trying to fathom what is there in the labels, I think it is still extremely confusing," she said while talking about her journey in founding her wellness company Parama Naturals.
The session ended with Geeta Prakash answering questions from the attendees present on Zoom as well as those watching it live on Moneylife's YouTube Channel. 
A video recording of the session is available for viewing below -