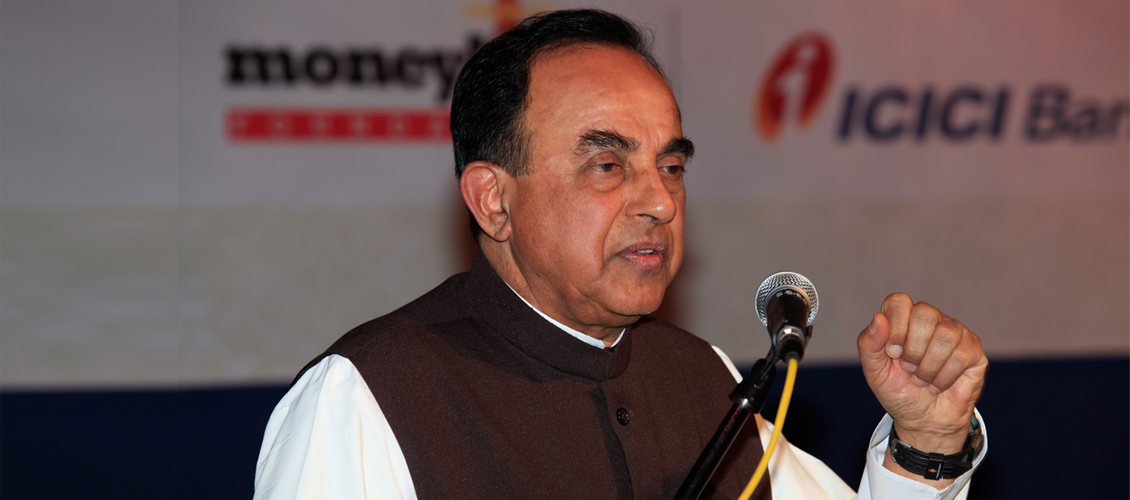 "If we can recover the money we lost to 2G scam and that which is stashed abroad in secret bank accounts, we will have enough to go without collecting any income tax for the next 25 years," said Janata Party chief and anti-corruption crusader Dr Subramnian Swamy. He was speaking on the topic '2G scam and its implications' at the second anniversary of Moneylife Foundation.
The Veer Savarkar auditorium where the programme was held, was filled to the capacity with people thronging the aisles.
Dr Swamy also outlined the significance of the guidelines set down by Justices Ganguli and Sanghvi about seeking prosecution of ministers and senior officials. "Media did not highlight one thing. The ruling by the Justices also say that now, any citizen can approach any investigative body~ local or national with prima facie evidence against a corrupt official, and order for an investigation. So if you want to start action against a local corrupt official, you can tell the police to do so," he said.
Dr Swamy said that the Delhi trial court's judgment was wrong, and he will take the matter up in Supreme Court. "It has happened before, most of my petitions against corrupt politicians in this 2G case were dismissed by lower courts, but were upheld by the Supreme Court. Probably for the first time, Supreme Court has sent a notice to the Prime Minister as to why no decision was taken about prosecution," he said.
Dr Swamy said that corruption was responsible for inflation, and for creating a weak national mindset. "The CAG estimates that Raja's benevolence cost a loss of Rs1.76 lakh crores. 122 licenses have been cancelled, and if the auction is now held even at the 2008 market price, we will have enough money for a lot projects."
He said that investing black money in Indian markets creates inflation. "When there is enough of supply, how come you have 16% inflation? That means a shortage in food grains and other necessary things is being created. And it is all possible because Chidambaram has allowed black marketers to buy and sell shares/commodities even before they are floated or made available to the market," Dr Swamy said. He also said that the market has started to focus mostly on luxury goods and premium segment services; leaving the underprivileged out. The high realty prices, inflation, etc are all symptomatic of this trend.
"The Indian government is reluctant to reveal the names of those who have foreign bank accounts, but this money continues to flow in and out of India. All the transactions are recorded by ISI as a result of which, they can always blackmail our politicians and officials. It is not only a major loss to exchequer and a burden on the people, it is a big security loophole. If we manage to have only 10% of the ministers to be honest, we will have a phenomenal growth rate," he said. Dr Swamy also talked about the vulnerability of EVMs, and also about the alleged links between DB Etisalat and Swan Telecom and Pakistani agencies.
However, he said that crusaders against corruption and citizens must not lose hope and should work together. "Anna Hazare has to trust politicians and enter the political scene, because that is the way of democracy. And all of us must fight together to rid the country of this malaise; and make formidable examples of those who have been caught to prevent future scams.
Dr Swamy also vowed to pursue his case against P Chidambaram for his complicity in the 2G scam case. "Prima facie, I established a case against Chidambaram and even the court agreed. I wanted the court to summon him to establish his criminality and cross-examine him as to why he agreed to the 2001 pricing and share dilution of companies," Subramanian Swamy told the gathering.
He termed as 'wrong' the trial court judgement dismissing his petition against home minister P Chidambaram in the second generation (2G) spectrum case and said he would soon prove it in the Supreme Court.
"Act of criminality will not come at trial stage. If (former telecom minister and key accused) A Raja is criminally liable, why Chidambaram's role cannot be probed? Conviction proceedings cannot be brought at trial stage. The judge acted on wrong basis. I will move the Supreme Court soon," Mr Swamy said.
He said he would move the apex court soon against Mr Chidambaram.
Mr Swamy recalled that he started collecting evidence about the then finance minister's role in the scam after prime minister Manmohan Singh said on TV that finance and telecom ministers had been authorised to decide on spectrum pricing as was the practice during the NDA regime.
"The government lost revenue because the prices were fixed at low level. In 2001, there were four million mobile sets while in 2008, the number was 700 million. The market had become huge," he said.
Speaking about anti-corruption movement in the country, Mr Swamy said there was a need for him to join Anna Hazare and Ramdev.
"Myself and Ramdev addressed a huge rally yesterday. Team Anna should give up its aversion to politicians. In a democracy, you cannot do without politicians and political parties," he said.