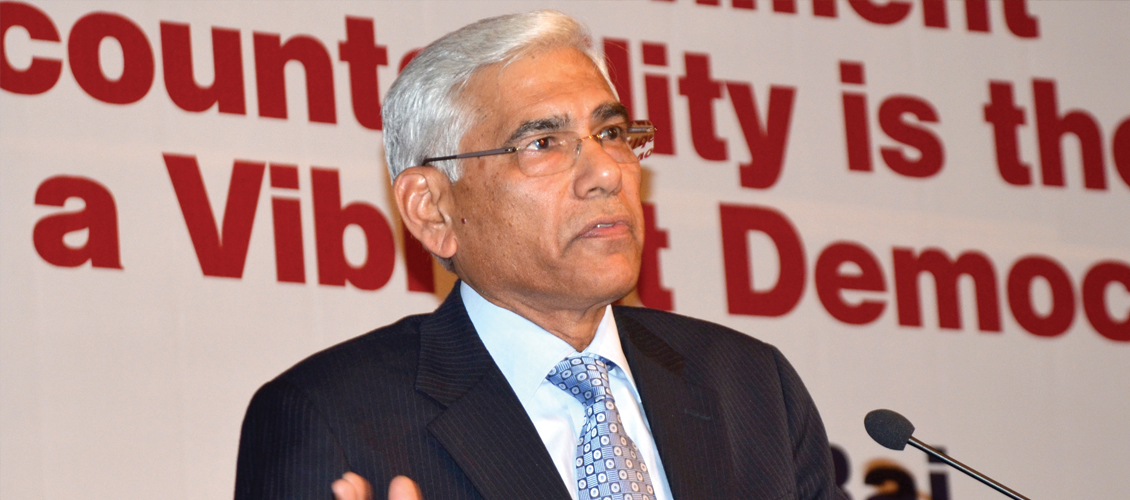 Comptroller and Auditor General of India (CAG) Vinod Rai delivered a short but powerful speech on "Government Accountability is the key to a Vibrant Democracy" to a packed audience at Moneylife Foundation's 3rd anniversary event in Dadar (Mumbai). Addressing a crowd of over 500 people, Mr Rai addressed the topic in clinical fashion, first defining what is required of the government, moving on to why the government is finally taking notice of us—the silent majority—and finally why we shouldn't fall back to sleep.
Mr Rai believes that government accountability has been as critical in India as it is today. He said, "Government accountability is an issue that is alive. But before we can understand what we require of the government, let's find out what it means for it to be accountable. Accountability is the obligation of those holding power to take responsibility for their behavior and actions."
While private institutions as well as individuals also need to be accountable, Mr Rai said that more is required of the government. He said, "Accountability becomes more important when public funds are involved. This is because public funds come from taxes, which we have to pay. Because there is compulsion to pay, we need to know how the money is spent. This is why governments have higher accountability to its citizens."
"Democracy without accountability is a body without a soul"
After years of slumber, Mr Rai believes, that citizens are finally waking up to find that they need to demand good governance themselves, rather than expect it. "Value-for-money in provision of public services," he said, "is the basic tenet of democracy. Democracy without accountability is a body without a soul. But the public perception indicates that elements of ethics and integrity are lacking. The public has come to realise that governance is too important to be left only to the government. Each stakeholder is now vociferous, discerning and demanding."
Mr Rai particularly noted the waking up of the urban middle-class in the last year. He said, "In 2012, the citizens took centre-stage, debunking the myth of the silent majority. This shows the maturing of Indian democratic forces. Citizens now seek a dialogue and this is the old order changing. Perhaps the urban middle-class united because of corruption at every government office. They have grown united and strong. This has taken the administration by surprise. They were never prepared. The government was too used to paid crowds at political rallies. This is the very reason for the insensitive and misguided response you saw in December and January."
"If the government doesn't perform, we have none other than ourselves to blame"
Toward the end of his speech, Mr Rai revealed what he believes is the key to a successful democracy. He said, "We are often told that the law should take its own course by those in charge. Unfortunately, this doesn't happen in our country. In successful democracies, the rule of law prevails. This needs to happen here, as well. We need the role of accountability institutions to be enhanced, as has recently been done in the US."
Finally, Mr Rai said what we need to do to ensure that the government doesn't forget what its job is. Mr Rai said, "The judiciary ensures horizontal accountability. What we need is vertical accountability, from the citizens, mass media and society in general. We need to remember that we ourselves give the government. If the government doesn't perform, we have none other than ourselves to blame. But it now looks as if the people are waking up again, as is evidenced by, for example, the reopening of Jessica Lal case. India demonstrated its ability to rise up at the time of independence, then again when democracy was snuffed out in 1975, when the economy was liberalised, and now again. We need to keep this up. There is too much at stake to give up."
The CAG finally urged the citizens of India to continue to speak up against corruption, saying that "tomorrow belongs to the people who prepare for it today". He ended his speech with this quotation from Shakespeare's Julius Caesar:
There is a tide in the affairs of men.
Which, taken at the flood, leads on to fortune;
Omitted, all the voyage of their life
Is bound in shallows and in miseries.
On such a full sea are we now afloat,
And we must take the current when it serves,
Or lose our ventures.