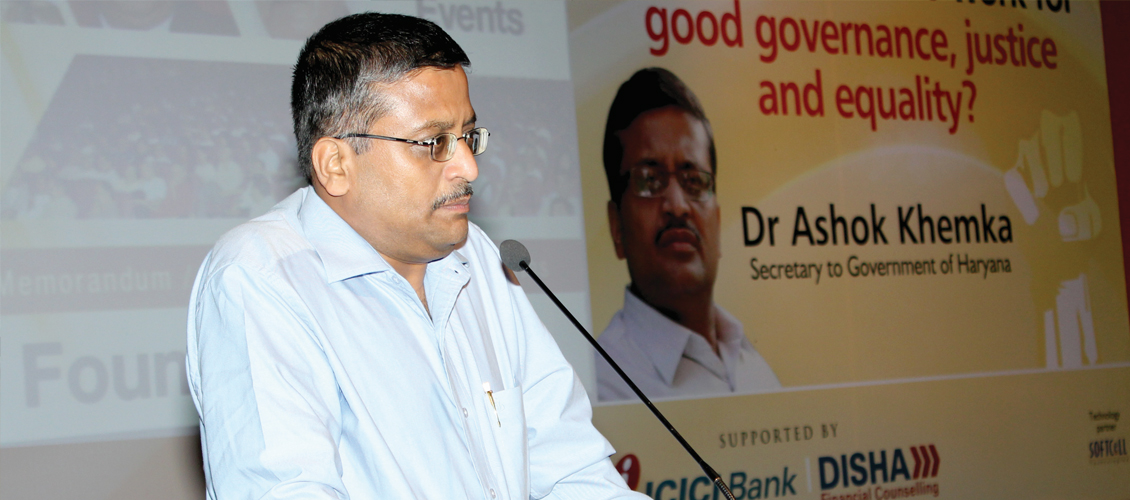 Dr Ashok Khemka, an amazing Whistle-blower and Secretary to Government of Haryana delivered a short but powerful speech about good governance, justice and equality, to a packed hall at Moneylife Foundation's 4th Anniversary in Mumbai.
Addressing a crowd of over 500 prominent citizens, activists and whistle-blowers, Dr Khemka said, "Governance is not a rocket science. All it requires is a good neeyat or right intent. For good governance, justice and equality, one has to be effectively good and honest.
Talking about being called a 'whistle-blower, Dr Khemka said, "I am not a whistle-blower as whatever I did and am doing is part of my duty and responsibilities. I will continue to do my duty. This is not about whistle-blowing, it is about doing your duty effectively. Everyone, including the chief minister, is under the rule of law."
Since several bureaucrats are entering into politics, people everywhere were wondering, when Dr Khemka will join the race. He however, ruled out joining politics. "I am not a quitter. I am part of this system and will stay in it. I am proud of it. I don't get scared by any of this but there is a lot of mental stress."
In October 2012, Dr Khemka became a household name, when heading the land consolidation department, he simply cancelled a sweetheart land deal between DLF, the real estate giant and Skylight Hospitality owned by Robert Vadra, Sonia Gandhi's son-in-law. Dr Khemka had been in this job for less than three months. If you remember, Vadra had got this land transferred to him in February 2008 for Rs7.5 crore and within a few months flipped it to DLF for Rs58 crore, for a 700% windfall gain in a few months.
Just a few weeks ago, the state government charged him for showing favours to a particular party when he was the managing director of Haryana State Warehousing Corporation when all decisions were as per norms and taken by the board of directors. In the Vadra case, the government says he is guilty of administrative misconduct and that he violated the rules by discussing the controversy in the media and criticising government policy.
Dr Khemka is anticipating 10 more charge-sheets along with 10 private complaints but his disarming question is what should he have done when he saw a scam or a sham deal? Indeed, he asks: "Should I have just ignored Mr Vadra's land deal? Is it only that poor people will be probed?"
There is another very important reason we must show our support in whatever way we can. The land deal for which we all got to know of him involved Vadra and so we all tend to assume it was the Congress govt, which went after him. Here is a dose of reality. The same Dr Khemka was the blue-eyed boy of the Congress when the party was in the opposition and he had strongly opposed the acquisition of land worth crores in Gurgaon district for a private builder for a paltry sum.
Congress was very happy with him too when as the director secondary education, Dr Khemka stopped the mid-session transfer of hundreds of teachers even though the CM Chautala had personally issued transfer notes. He was promptly shunted out to an inconsequential post without an official vehicle and office. He started walking down to his office. The Congress, then in opposition, clapped from the side-lines.
Dr Khemka has worked with four chief ministers – Bhajan Lal, Bansi Lal, Om Prakash Chautala and Bhupinder Singh Hooda – and has had run-ins with all of them over his stand on various issues. As long as he does his job, Dr Khemka will be a target of politicians, no matter which party is in power. And this why people like him need the support of citizens.
It is matter of some consolation that he has been recognised for his outstanding work. Apart from the nationwide recognition he has received, Dr Khemka has been recognized Crusader against Corruption chosen for the SR Jindal Prize in 2011 along with Sanjiv Chaturvedi, another upright officer of Haryana. He also received the Manjunath Shanmugam Trust Commendation on Public Works in 2009.