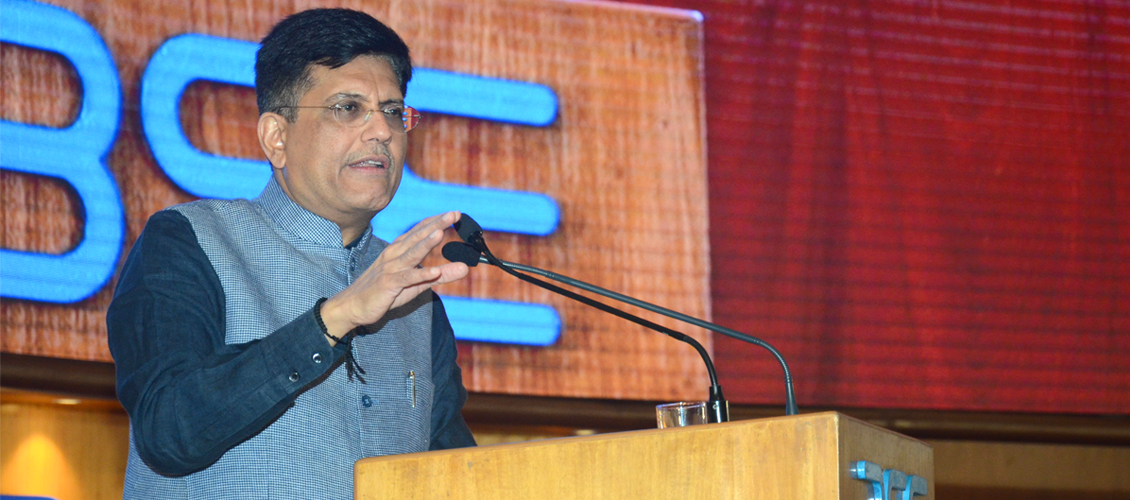 "We are working on a three point agenda, safer railway, cleaner railway and smarter railway. With these initiatives we can make railways as engine for India's growth," says Piyush Goyal, Minister of Railways. He was speaking on 'How Transforming the Railways Can Boost our Economy' at Moneylife Foundation's 8th Anniversary in Mumbai. "Inspired", "charged-up" and "rejuvenated" were some of the comments from a 600 plus audience, including some prominent activists who heard the Minister at the historic convention hall of Bombay Stock Exchange (BSE) on Saturday afternoon.
He said, "When our government took charge in 2014, the capital expenditure of railways was Rs45,000 to Rs53,000 crore. However, for a vast country like India, this is not sufficient and we thought there is a need to move the needle to increase the development work. For current year, this is now Rs1.30 lakh crore, which shows our commitment to make railways an engine for the country's growth.".
Speaking about bullet train, Mr Goyal says, last time a train with additional speed, comfort and safety features was introduced was way back in 1969 -- the Rajdhani Express. Even at that time people were skeptical about the need for such type of train. From 1969 to 2017 neither we introduced any high-speed train nor we have not embarked on any major new technological initiative that will take us to international standards of passenger safety, comfort, convenience and speed".
Some of the new improvement that took place in railway systems, the Minister said, now the Railway Board compulsorily meets once a week to discuss and advise on various ideas and steps to improve our railways. This is better than the meetings that were not frequent. 
Mr Goyal reiterated that the Government is making Indian Railways one of the safest and most modern mode of transport in the country, and introducing faster and comfortable passenger trains for a better travel experience. "We have taken many major decisions and all of them are being executed at different levels, which cumulatively will make us the safest railways in the world. We are working towards eliminating all unmanned level crossing within a year. If state governments give us adequate support, then we will replace such unmanned level cross with underpasses and over-bridges," he added. 
Railway activist Samir Zaveri presented a "Memorandum on Improving Mumbai Suburban Rail Network" prepared by Samir, Ajit Shenoy, Shirish Shanbhag, Sumaira Abdulali and Moneylife Foundation to Mr Goyal.
Responding on the Memorandum, the Railway Minister said, "There are several good suggestions in this Memorandum and we will see if we can address some of them. For example, for the PArsik Tunnel issue that is mentioned in this, we are in the process to make the tunnel water proof so that next rainy season, there will be no leakage. For allowing passengers of Konkan Railway to continue travelling to their destination in suburban train, we will work out a solution."
Talking about Mumbai Suburban Rail Network, the Minister said, the Ministry is looking at a holistic vision for developing this network over the next five years that would ensure much more comfortable and safe travel for over 75 lakh daily commuters.
Indian Railway is working with Indian Space Research Organisation (ISRO) in GPS location and mapping of all works through satellite imaging. This, according to Mr Goyal would be used to for doubling of lines, to build other infrastructure facilities wherever there is an availability of land with the Railways. 
At present, only 42% of total track network is electrified, rest section is operating on fossil fuel. In fact despite Delhi being a fully electrified station, majority of the trains coming there run on diesel. "We aim to achieve 100% electrification of all rail routes over next few years. By 2022, you will see a new railway running across the country," he added.