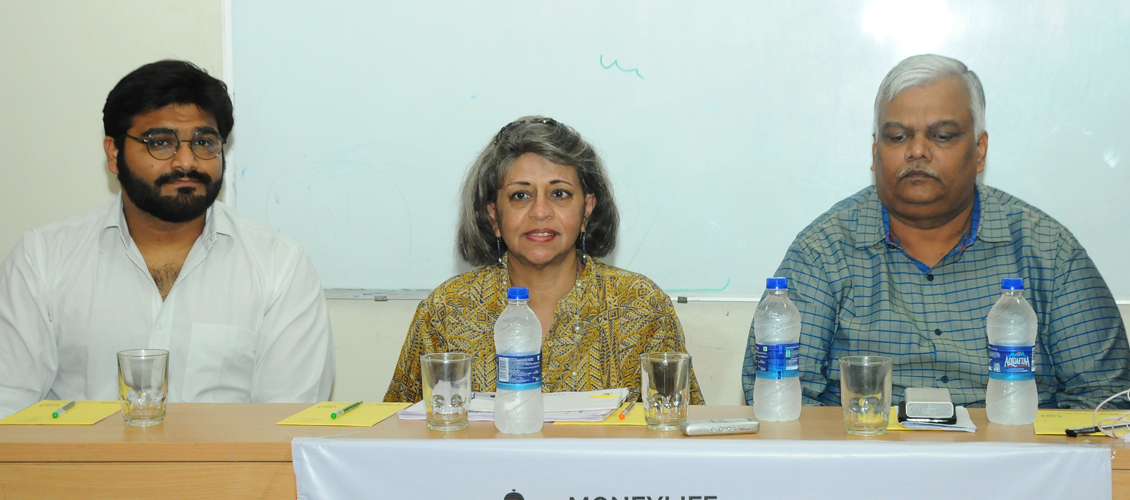 More and more citizens should use Right to Information (RTI) Act for obtaining information for their own as well as society's benefit, was the unique messages from RTI activists of Pune and with the facility of online filing of RTI it has become easier to do so,'' stated noted RTI activist, Vijay Kumbhar. He was speaking at Moneylife Foundation's RTI Centre organized, "How to use RTI in day-to-day life" workshop, the experts, Vijay Kumbhar, Vijay Kumbhar, founder Surajya Sanghrsh Samiti, Qaneez Sukhrani, Managing Committee Member of Nagrik Chetna Manch, Tanmay Kanitkar, President of Parivartan, an NGO which uses RTI extensively and Vinita Deshmukh, Consulting Editor of Moneylife.
These experts motivated and inspired the packed audience on using this citizen-friendly law.
Narrating his experience of his first RTI application, nine years back, on how it took him one whole year to procure information on an educational related issue, Mr Kanitkar stated, "You should have patience and perseverance to get the information you have requested. Mostly, the public authorities are inclined to provide you the information but you must be focused in your attempt and shed off negativity. Often, there is disconnect between our political leaders/ government officers and citizens as the latter is unaware of the actuality of work being done by the former. Hence, every citizen must be aware of the duties discharged by those who we make trustees of our money.''
Ms Sukhrani urged the audience to pursue the information doggedly and not give up if at the first instance, he or she is denied information at the Public Information Officer (PIO) level. "PIOs do provide information; in fact most of them respond to RTI requests. However, one should use RTI to resolve their issues and not waste time."
She narrated how armed with the information procured through RTI queries, she has taken dragged government authorities to the Bombay High Court and won cases. One of them related to illegal hoardings put up by politicians. "I also filed RTI applications with several authorities because of which I have been successful in obtaining Deemed Registration and Deemed Conveyance single-handedly for my Society as we had a non-co-operative builder / promoter who refused to hand over documents, plans or register the Society," Ms Sukhrani added.
Mr Kumbhar urged the participants to, use Section 4 extensively and forget about going through the rigmarole of writing a RTI application under Section 6 with a Rs10 court fee stamp and waiting for 30 days or more to get information. The Pune Municipal Corporation has an open day between 3pm and 5pm every Monday, for file inspection under Section 4. Every citizen can walk into any department of the PMC and demand inspection of files. However, despite this facility in the country, very few citizens go for inspection, Mr Kumbhar added.
He urged citizens to show up on Mondays at the PMC. He also mentioned that building plans of each and every construction in the last three years have already been uploaded on the PMC and work is going on to put up the plans of the earlier years.
During the interaction session, participants spoke about their experience with RTI in the banking sector, public toilets and so on. The panel of experts replied to the doubts and queries of participants. Sucheta Dalal, Founder Trustee of Moneylife Foundation urged participants to join in the Moneylife campaign, which is fighting against loot by banks through levying of various kinds of fees as service charges from individuals, which is illegal. It is Reserve Bank of India (RBI)'s responsibility to act against it but isn't doing so. The online campaign link is:
https://www.change.org/p/governor-rbi-finance-ministry-stop-banks-fleecing-depositors
.