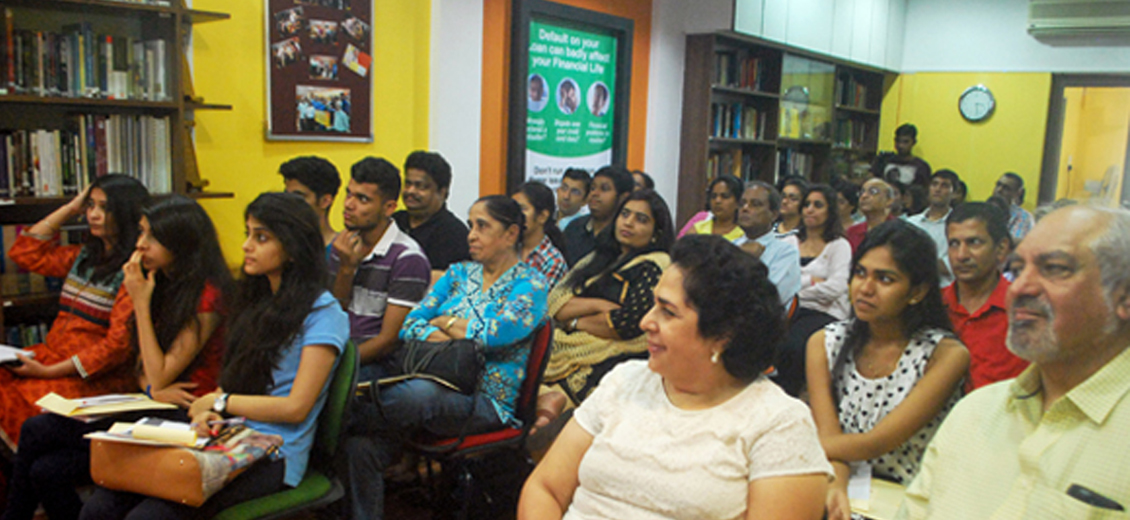 Moneylife Foundation conducted a special programme for college students –"Be Safe and Smart with Your Money" in Mumbai. The event, which witnessed a packed audience, was held at the Monyelife Foundation seminar hall. The first session was conducted by Sucheta Dalal, managing editor of Moneylife and founder trustee of Moneylife Foundation. She pointed out to the students as to how one can avoid financial mistakes.
Yogesh Sapkale, deputy editor of Moneylife, highlighted how one can create robust passwords for internet and secure PIN for ATMs, debit and credit cards. The last session was addressed by Debashis Basu, editor and founder trustee of Moneylife Foundation. He articulated the simple steps for investing smartly.
Ms Dalal started her session with a brief introduction about scams in India. A person's knowledge or smartness does not guarantee that he/she cannot fall prey to the confidence tricksters. There are different types of scams – lottery scam, job scam, conference scam and interest waiver scam out to get us. The numbers of scams reported are infinite. Furthermore, Ms Dalal explained about the "Eight Security Features" of an Indian Bank note.
In her session, she also discussed that one should keep one's financial life simple and one should invest in just a few products—products that are safe and well regulated. Ms Dalal spoke about the dubious schemes like QNET, Pearls, City Limouzine, Japan Life, which could be clubbed to category called Pyramid scheme or chain money schemes. These schemes claim to provide extremely high returns luring the unsuspecting savers and then vanish into thin air.
"There is no guarantee that you will not lose money, but it is safer to invest in products that have regulatory oversight", Ms Dalal informed the audience. One should be extra cautious, while dealing with your banker as well.
She narrated to the packed audience incidents where "relationship managers" have taken genuine and educated customers for a ride. She also explained how usurious are the rates charged on credit card outstanding. Ms Dalal talked at length about the new phenomena like Phishing and Vishing on the internet that traps the gullible public and robs them of their hard-earned money.
Mr Sapkale in his presentation highlighted that nearly 50% of the users have the same password for all the sites. And worse still, almost 90% of them don't change their password periodically. A majority choose a readable word as base for password and just add a numeral or symbol to make it more secure. However, he said such passwords are very easy for hackers to crack within minutes. At the same time, "No password is 100% crack proof. It means, any password can be cracked sooner or later," Mr Sapkale explained. Nevertheless, strong passwords of more than 13 characters, created using a combination of words, digits and special characters takes more time or even days to crack.
Complicated passwords are necessary to protect sensitive information and to prevent unauthorised use of your account. Online banking, emails and even social media sites should be protected with strong passwords. For general sites, which do not affect you personally or financially, use simple phrases to create passwords, explained Mr Sapkale.
Mr Basu in his session highlighted the simple steps for investing smartly. To start with, he suggested "saving at least 25% of your income". While Indians save a lot, they keep their money safe in bank deposits.
Unfortunately, this is just the wrong thing to do because the money does not grow enough. The most important issue related to savings is 'Smart Spending'. It's imperative for the youth to understand that our small savings today can meet bigger expenses later.
Everybody can make financial decisions, he said if they stick to some simple principles. He explained the principles of compounding under different scenarios. The effect of compounding is slow in the initial periods, but as time passes on, the power of compounding takes over and the wealth created is huge.
After knowing the power of compounding, where should one invest? From just a handful of products a few decades ago, the number of financial products has grown to hundreds today. Do we need all of them? Given the complexities of financial products, it requires dedicated effort, lots of time and a keen interest to know all aspects of financial products.
Mr Basu explained that one does not need most of them. Just chose a few financial products such as bank fixed deposits and equity mutual funds and avoid the rest, he advised. He emphasised that one should avoid 'hot' stocks, stock tips, "expert advice" and all investment products that are complicated and promise attractive returns.
Mr Basu showed the audience various routes that one can use to invest safely and smartly. To a younger audience still new to investing, he suggested putting 40% of their regular savings in bank FDs and 60% in equity mutual funds regularly. One should hold equity mutual funds, at least, for a period of 10-15 years for wealth to grow.
Each session was followed by questions and answers with the audience. If you would like us to conduct more such seminars, write to
[email protected]