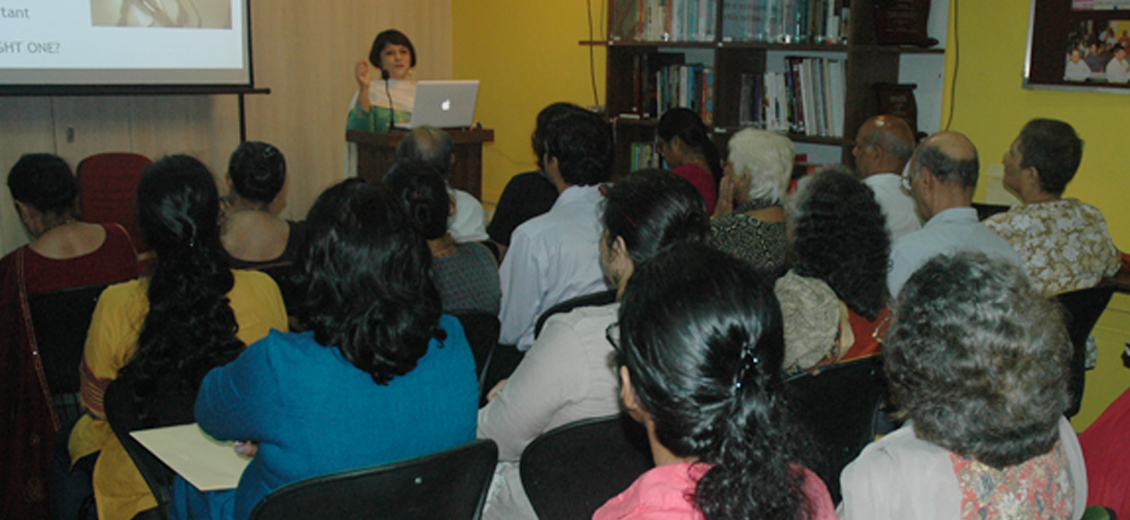 Women tend to be unconcerned about aspects of saving, borrowing and investing, preferring to believe that men do all that much better. But they then end up falling into financial traps or invest in wrong products. It is for these reasons, Moneylife Foundation conducted its 173rd event which focussed completely on financial literacy for women. This seminar was the second of its kind held by the Foundation during the year, the first one being a twin-session held on International Women's Day.
The session was conducted by Sucheta Dalal, founder trustee of Moneylife Foundation, in which she enlightened the packed audience about where financial dependence starts, how wounded it can leave women and what steps to take to improve it gradually.
Ms Dalal said that it all starts when women leave all financial decisions to their husband/father, without realising that these decisions can play havoc with their lives. They are often made co-applicants in loans and beneficiaries in investments and insurance, without their knowledge. They may they outlive their husbands, end up losing out on their own savings as well as the inheritance, only because of lack of awareness.
Many women also tend to give up their savings for financial emergencies of the family which leaves them vulnerable and dependent. In this regard, the condition of working women is no better than homemakers, especially those who opt out of careers due to family responsibilities. Ms Dalal advised how women should start preparing in a manner that sustains them for over decades. She enlightened them on insurance, wills and nominations.
She quoted a study done by Mrinalini Deshmukh and Fazaa Shroff in their book Breaking Up where they state that 90% of divorce cases end up becoming conflicts over money.
Ms Dalal advised women to use 'safe' banks 'safely'. She suggested women use nationalised and large banks and avoid dealing with co-operative banks. "Be careful while dealing with relationship mangers. You are targets for them, for which they will push harmful products since women are soft targets. They never hesitate to make false commitments about pricing, returns, documents or disbursal patterns."
Ms Dalal also gave live examples of how educated and vulnerable women like Suchitra Krishnamoorthy have been cheated. Many other cases like these have come to Moneylife Foundation through the Foundation's Insurance helpline.
While advising women to be conscious about insurance, she asked them to find out whether they have sufficient life, health, property and personal accident insurance. "Its important to read the fine print word by word while buying insurance, since buying insurance is easy, while getting the claim is a completely different story," she said. She also said that there is huge difference between investment and insurance and that the two should never be mixed.
During the course of the session, Ms Dalal gave a number of real life examples on how women have been lured into shouldering financial responsibilities of the family, irrespective of whether they have a commensurate income or not. After shifting major liability onto them, which takes away a huge part of their income as contributions to EMI or house expenses, they were literally thrown out on the road. They are unable to claim either their income or the assets that were purchased by using their income.
Ms Dalal give examples of various 'emotional' mistakes that women make and how devastating they can prove to be.
• Putting signatures where asked to, without reading the terms
• Losing track of income and where it is being spent
• Repaying most of the 'jointly-borrowed' loan
• Falling into gold loan and traps, besides buying gold coins from banks.
She cautioned the audience to watch out for celebrities endorsing investments and insurance. She suggested that women take charge of their financial lives by making a list of financial obligations running in their names, having at least one separate bank account, having clear understanding of the effects that joint borrowing would have on their own finances and that husbands' defaulted repayment would affect them too, even if the marriage breaks up.
Towards the end of the session, she made women aware of what identity theft is and cautioned them against handing over documents to strangers. She also told them what credit scores and credit history mean and how their 'co-application' can hurt their credit scores.
Ms Dalal ended the session with discussing investment traps such as chain-money schemes and guaranteed-return schemes and credit traps such as credit cards and loans. She also introduced the audience to the benefits of credit counseling and insurance helpline started by Moneylife Foundation.