An Update on Our Covid Relief Efforts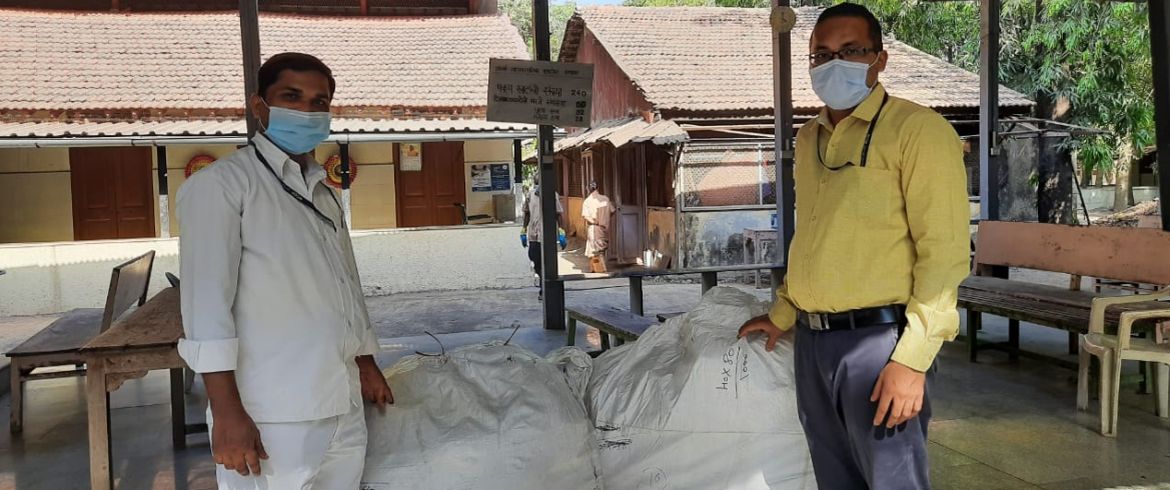 We are nearing the end of another month under a nationwide lockdown. As time passes, our relief work has been changing to meet new requirements that keep coming up from hospitals, which his our core focus.
What is clear now is that Covid 19 is not going away in a hurry. The 4-phase lockdown hasn't helped. The number of cases have increased, and, sadly enough,  the need for body bags, oxygen masks with reservoir bags and also disposable bed-sheets for hospitals to cater to the growing number of Covid positive patients.
The municipal corporation is working hard to increase the number of beds and places available for treating Covid. All hospitals have been asked to ramp up and even double the number of beds, and requirements for supplies and protective gear are rising in line with the higher number of patients admitted. 
New facilities such as the Acworth leprosy hospital have been created for handling covid supplies under very committed doctors like Dr Avinash Khade. Civil work is on, central Oxygen supply work, instruments and equipment is being installed. But the speed of the spread is so much that we donors have to do our bit.  
A hospital bed is among the scarcest commodities in Mumbai today, next only to finding an ambulance to take a patient to hospital. It is tragic that ambulances are also busy helping to procure protective gear from the BMC and from donors, when they ought to be working overtime for patients. If any of you has thoughts on how we can help on this front, do connect with us. 
Public Interest Litigation for Pricing Regulation
We continue to fight the attempts by traders to profiteer during the pandemic by hiking up costs of essential protective gear.  We have taken the N95 rip off to the next stage by filing
a public interest litigation (PIL)
in the Bombay High Court. We partnered with social activist Anjali Damania, founder of  Voice of Indian Taxpayers, who has done amazing work in documenting and collating information on prices and regulation of N95 masks. Our grateful thanks to Sr Counsel Mihir Desai and his team, including Adv Mihir Joshi for helping us make a fight of it. 
The Bombay High Court in its preliminary ruling on our PIL, had questioned why there was no cap on the prices of N95 masks, especially when they have been notified as an essential commodity under the Essential Commodities Act. The court had asked the government to respond to the concerns raised in a week's time. However, in a more recent development, the Association of Medical Consultants has filed an intervention application and we have been asked to file a rejoinder by Friday, 29th May. We are hoping for a prompt and positive response from the government next week, to put an end to the hoarding and high pricing of N95 masks. 
The next hearing is on Friday; meanwhile the  National Pharmaceutical Pricing Authority has also issued an
official memorandum
which is more of a mild rebuke to those hoarding, black-marketing and higher pricing of N95 masks and does not actually place any form of cap on the pricing. 
Tocilizumab for Sion through Cipla Foundation
On our relief efforts front, we were recently informed by doctors from Sion Hospital that they were making use of the drug 'inj. tocilizumab' in serious COVID-19 patients, to ease respiratory symptoms. They have been successful in treating 23 serious patients, whose oxygen requirements after treatment were reduced considerably to a level where they did not need a ventilator. There has been some preliminary research into this drug and its effects in easing covid symptoms, and Sion Hospital has been keen to procure more for treatment of their patients. They expressed their concerns to us, that even though BMC has been purchasing and supplying the drug, the requirement is much more and is also likely to increase, thus requesting us assist in some manner.
Our trustee Walter Vieira helped us connect with Mr M Hamied and Cipla Foundation, who promptly and graciously agreed to donate 10 vials of 400mg inj. tocilizumab. This drug is incredibly expensive, with a street value of Rs41,000 for a 400mg vial. We greatly appreciate the support from Cipla Foundation and hope the drug proves to be beneficial in saving lives. 
Intubation Guides and Hand Sanitisers
Dr Dev Pahlajani, a former alumnus of Sion Hospital made a donation specifically for the hospital. Dr Neela Patwardhan, helpful as always, helped target it by discussing with doctors and tell us about the urgent requirement for 'intubation guides', such as those used during surgeries where tracheal airway passages have become difficult to manage and there is a failure to ventilate or oxygenate. We were able to deliver eight such 'intubation guides' to the Department of Anesthesiology. 
Another effort has been to coordinate relief work with the wonderful group working with activist Anjali Damani, Dr Anjali Chhabria and others.  We were able to pass on all the requests for hand sanitisers to Dr Anjali Chhabria and her NGO.
Reusable Rubber Gloves
For well over a month, our colleague Pankaj Raheja has been hunting for supplies of reusable rubber gloves that were badly needed by the cleaning and maintenance staff of all hospitals. Prices had doubled since our inquiries in March and we were most reluctant to pay more than double in May! 
So it was a wonderful surprise to receive an email in our mailbox from Pulkit of
Prime World
 who had seen the video on the N95 loot and offered us a huge donations of fantastic rubber gloves. We were happy to skip over to Naigaon and collect the precious donation and also touched that he drove all the way to Chembur to get the keys to his godown to be able to give them to us. So far we have had distributed them to Sion Hospital, Cama & Albless Hospital, JJ Hospital, K B Bhabha Hospital, Ackworth Leprosy Hospital, Rajawadi Hospital and even to a community kitchen in Govandi.   
Kawach - A Cheaper Alternative to N95 Masks
With the scarcity of N95 masks and their preposterous prices, we were fortunate to connect with ETEX, a IIT-Delhi startup which has developed an affordable alternative mask – 'Kawach'. We ordered for 10,000 such masks and had them delivered to various hospitals in Mumbai and some in Navi Mumbai. We are also glad that doctors from these hospitals have found them to be a good alternative to N95 masks. 
Deliveries to Navi Mumbai, Govandi and Kharghar
Up until this point, with the lockdown enforced it has been difficult for us to supply hospitals with essentials in places that are hard to reach without proper permissions or transportation such as, Navi Mumbai, Govandi or Kharghar. 
Fortunately, our colleague Aravind Natarajan's father who's a banker who commutes from Navi Mumbai everyday, offered to assist in pickup and delivery of gloves and masks to Hospitals in Navi Mumbai. We have now been able to reach a community kitchen in Govandi through intermediaries, and even Tata's Advanced Centre for Treatment, Research and Education in Cancer (ACTREC) in Kharghar.
With BMC stepping in to purchase hospital essentials in Mumbai, we are hoping that requirements for masks, PPE kits and other basic items are being sufficiently handled on a need basis, allowing us to focus on more specific and urgent requirements from hospitals. Furthermore, with a positive ruling on our PIL and a price cap on N95 masks we hope that doctors and hospitals would be able to purchase these at a reasonable rate, without being taken advantage of. 
We sincerely thank all of you who donated towards this relief effort and hope that we come out of this pandemic in a fit shape!
Please do
DONATE
if you would like to support our relief effort.